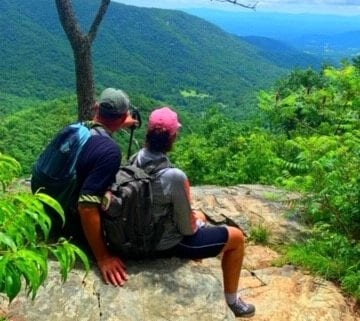 This is my Father's World, to Share
We have crossed over into the northern part of the trail.  We are excited to be in more familiar lands. Looking forward to the many places we have visited in the past. We have now been in nine states and walked well over the eleven hundred mile mark. We have also found a new sense of joy and an added purpose to this walk, to share this world with others.
Friends and family who have expressed a desire to see and experience what we have seen. To try out the climbs and cross milestones with us. To see the changing states and walk by the mile markers of each one hundred mile marker.
Into this world, we invite them to hear the birds singing praise, dine with other hikers and experience God's creation in person. While this sharing will slow our progress, it also provides us with a new and added reason to walk. To share "Our Father's World." It is the joy in their eyes we will see. For them a new sense of nature. It reminds me of a song I often played on my piano, "This is my Father's World." Whose lyrics are:
This is my Father's world
And to my listening ears
All nature sings, and round me rings
The music of the spheres

This is my Father's world
The birds their carols praise
The morning light, the lily white
Declare their maker's praise
This is what we see and feel every day. It is now our turn to share. From old friends to daughters and grandchildren to brothers and sisters. A special joy will be felt when we see my parents and walk a few steps with them. Sure we will have to adjust our schedule, but it also provides us with a chance to share. Other hikers we have gotten to know will march forward on their glorious journey of discovery, while we share.
We will share and be glad we did.
When Myron Avery helped create the Appalachian Trail, he wanted to create an accessible place for people to visit, even if it is only a few miles. A place that is pure in its expression of the beauty that is nature. A place that all, young and old can see. We now have this chance to share in this dream. A journey not measured by marching many miles, but a journey of experience. Exposure to a place that changes our perspective of what is important.
We look forward to being with, Bern, Taylor, Kenny, Doug, Chrissi, Luke, Ashley, Roger, Ann, Bob, Dot, Jimmy, Penny, Greg, Betsy, Spencer, Nevin, Anna, and Eva. These are the people we hope to see. They won't slow us down, but give us a chance to share.
Our first companions were Chrissi and Kenny.
Connie's twin sister and her husband. It was a treat to have Kenny, a professional pastor, say our morning prayer. We taught them how to climb a mountain without stopping for a rest. With a steady pace that was within their ability, by using short steady steps. In this day they covered a variety of terrain that is similar to our typical day. They got to experience the wonder of majestic views. They were with us when we crossed the 900-mile mark. We had lunch on a rocky outcrop that provided views of the Shenandoah's. At the end of the day, we were proud of what they had accomplished and glad to have shared.
The picture today is one of Kenny and Chrissi, at the outcrop where we had lunch.
Below is a picture of Luke walking with Papa Bruce.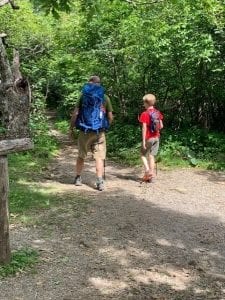 Luke, my grandson, and Ashley my daughter have also come to visit as well. In this visit, we were able to walk a few miles on the trail to a rock outcrop with views of the Shenandoah valley. A visit where Luke reached beyond his fear of heights to see this glorious view and show his dad by FaceTime his achievement. Moments which we get to share that reshape our journey.
Below is a picture of Bern and Connie.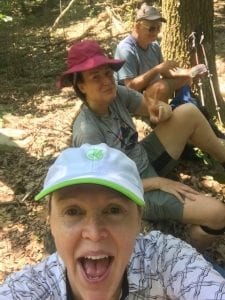 Our most recent visitor was Bern, a long and dear friend. Bern walked with us in Maryland and West Virginia, near Harpers Ferry.  Bern was with us for the start of the rocks that are strewn across the paths on the northern part of the trail. In two days Bern covered 18 miles of tough terrain, climbed a 1300 peak and was there for the walk into Harpers Ferry while crossing the Shenandoah River footbridge. An amazing feat on Bern's part.
This is not a typical event on the trail.
It is hard for visitors to maintain the same pace of hikers who have walked many days. But sharing is now part of our journey. One we will enjoy, helping others share in what we have seen. Our hiked morphed long ago into one of experiencing the trail and not just walking the miles. We met people much earlier in the hike who told us they wished they had experienced more in their thru-hikes. They wished they had stopped a few more times to see more than just the miles. Some have returned, like Magellan, who hiked the trail in 2016. He told me this second journey was not about time tables or the miles. Later this summer he will join his son in Maine to climb Mount Katahdin.
We welcome our visitors and thank them for helping create a wonderful experience. This trail is for all to hike and experience. These are visits to "Our Father's World." Moments that immerse people into the glory of creation.
Blessings, until next time,
Bruce L. Hartman
https://brucelhartman.com/wp-content/uploads/2019/07/Feature-blog-image-7-17.jpg
640
360
Bruce L Hartman
https://brucelhartman.com/wp-content/uploads/2019/02/bruce-hartman-logo.png
Bruce L Hartman
2019-07-17 02:30:00
2019-07-16 21:38:36
This is My Father's World, to Share