Do nothing out of selfish ambition or vain conceit. Rather, in humility value others above yourselves, not looking to your own interests but each of you to the interests of the others.

– Philippians 2:3-4
Ten years ago, I was helping out at a large Methodist church in New Jersey. One Saturday morning, the church had a conference meeting to review its finances and administration with people from the local bishop's headquarters. Folks were coming to meet with the minister and committee heads to review their operation.
As usual, I showed up early, worried about being late. As I waited, a car drove up, and a friendly man stepped out and opened his trunk. Immediately, I assumed he was there to attend the meeting, likely from the bishop's headquarters. I went to the man and asked him if I could help him.
When I first approached him asking if I could help, he gave me a guarded stare and assessed what I was up to. His natural defensiveness resulted from growing up in a tough part of New Jersey, where scams abounded. After a few minutes of sizing me up, his face changed and contained a wry smile. He said, "Sure, and thanks for the help."
We took his many boxes and bags into the church meeting room. Then we did the usual formalities of introducing ourselves. The man, John Cardillo, was the headquarters chief finance officer. He was there this Saturday to show the members and minister how to run their church financially.
Soon other people showed up, and the meeting started. As I watched John conduct the meeting, I became intrigued by his mannerisms and style. He talked patiently and with a smile. I watched how he easily explained church finances with grace and a smile. I thought to myself; this man knew how to communicate and win people over. He spoke humbly and answered questions thoroughly with a tone of respect. The more I observed John, I learned he was more interested in helping than promoting his agenda.
John was perfect; he wasn't boring, which many finance people like myself can be. His delivery was clear and friendly. John seemed to know how to get people to like and listen to him. In a very subtle way, his humility emerged as he talked. There was no boasting or commands, just him trying to help other people—everything about John was friendly and thoughtful.
As I continued to help out at The United Methodist Church, I learned more about John. John drove almost an hour to the headquarters from Monday to Friday, arriving at five AM, well before everyone else. Most nights, he stayed well past five. On top of this, he would work Saturdays visiting churches to help them with their finances. In most churches, the committee heads were made up of people with jobs of their own, and Saturday was the only day they had free, making John have to visit them on Saturday.
John never complained about his burden; he kept his head down and worked. I learned to see John in the morning if I needed his help. I always went early because I liked to talk to John and knew he would have the time. He put his work aside when I entered his office and listened to my requests. His answers were always unhurried and correct.
As time wore on, I got to know this man better. Unfortunately, his favorite sports team was the New York Jets, who each Sunday seemed to lose-often in comical ways. But John stayed loyal to his team. He had Catholic roots and, in fact, had worked at Catholic Charities before accepting a head finance job with the United Methodist Church.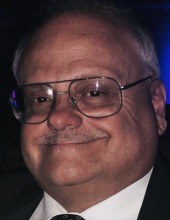 John had a large number of loyal friends, primarily because of his humbleness. John could have easily been more successful outside the church world. I am sure he would have risen the ranks quickly in private industry and been compensated far more than he was with the church. But Jesus put John to work in the church, and John knew this. Sure he expressed frustrations with the imbalance in his pay. But he continued steadfastly doing his job at a very high level.
My friend Pastor Lou called me last week to let me know John was close to his final journey. He was racked with liver cancer and in great pain. Lou and John's family spent his last moments together. Then, finally and mercifully, in a quiet moment, he passed into our Lord's hand.
I am sad John is gone, but happy for knowing him and knowing he is safe with our Lord. John didn't lead a life of material wealth or extravagance. Instead, he led a simple life built on humble loyalty to his work, friends, family, and his Lord.
We don't often read about humble people; they don't make the news. But I know in Jesus' eyes, John was a star. The Apostle Paul in Philippians describes how we should live and perfectly describes how John lived. Paul says; Do nothing out of selfish ambition or vain conceit. Rather, in humility value others above yourselves, not looking to your own interests but each of you to the interests of the others. (Philippians 2:3-4)
Be well John, until we meet again.
In memory of 
John F. Cardillo 
July 18, 1956  –  December 30, 2022
https://brucelhartman.com/wp-content/uploads/2023/01/allan-nygren-OyWCXEczxI-unsplash-scaled.jpg
1438
2560
Bruce L. Hartman
https://brucelhartman.com/wp-content/uploads/2019/02/bruce-hartman-logo.png
Bruce L. Hartman
2023-01-03 09:59:13
2023-01-03 11:30:53
John Cardillo: A Humble Life Of Christian Service