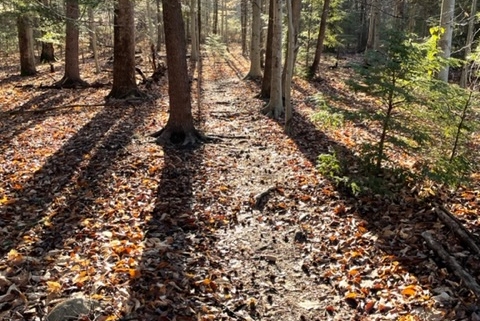 For everything created by God is good, and nothing is to be rejected if it is received with gratitude;

– 1 Timothy 4:4
I parked my van at a large parking near the Appalachian Trail in Tennessee. As I usually did, I reviewed my backpack's contents to ensure I had enough food and water for a five-hour hike. I had three liters of water or Gatorade, my Snickers bar, 2 BelVita cookie packages, and a well-filled peanut butter and jelly sandwich. Probably more than I needed, but more is better than not enough.
Then I ensured I had my emergency kit in case of an injury to myself or someone else. Next, I made sure I had my bear spray. Finally, I switched my phone to GPS mode to track where I was and the height of the climb in front of me. Switching to GPS mode also entails going to Airplane mode so the GPS doesn't drain the battery.
Then I made my regular mental reminders. The first was to enjoy the hike and not treat it like a competition. This a helpful reminder to ensure I didn't miss anything along the way, and this attitude also provides I drink and eat properly. There is always the tendency when you go too fast to give up the important water and snack breaks. Plus, you won't take the time to experience the woods and views. For competitive people, it is important to remind ourselves it's about the hike, not the speed.
My one last thing to do is say a prayer of thankfulness and protection. Usually, when Connie and I hiked, we did this just after we were on the trail. It always seems inappropriate to pray in the parking lot and feels much better when we are standing on the trail.
On this day, I crossed the street in front of the parking lot and spotted the three-by-six-inch white blaze on a tree that let me know I was on the Appalachian Trail. Up a few stairs by the blaze, and a quick right put me right on the trail. When I looked up after making the turn, I was suddenly hit with the sun shining precisely on the path of the trail. Almost as if the sun's rays followed the path I was to take. Amazingly, the shadow of the trees outlined the path perfectly.
As I looked up, the sun was like a crown encasing the tops of the trees. At that moment, I knew where to say my prayer and to tell God I was thankful. There was a warmth to the sun, almost as if God was inviting me into God's creation. But then, peace settled in, and while I knew the hike would be tough, I was thankful to be able to share in this place.
I stopped to take a picture to capture this unusual image. A photo I would later study many times. Not because I am a great photographer, I am not! But to see the miracle in my day. A perfectly outlined path. An unusual creation from God.
Later, a half-mile climb almost straight up had to be encountered. There were the cliffs, which required hand-over-hand climbing without hiking poles. There was the walk on an exposed path to a view of a valley some fifteen hundred feet below. There were rocks littering the tail and fallen trees to climb over. All reminders of what a normal hike on the Appalachian Trail looks like.
On my five-hour trek, I climbed two thousand feet. I had lunch at a wonderful picnic table far away from the road, making me wonder how it got there. As is usually the case met a few other hikers, whom you take the time to greet. We would talk about where we have been and where we are going. No formal script, just friendly reminders of how wonderful the hiking community can be. No judgment because everyone hikes their own hike.
On this day, the first step on the trail and into the sun, the warmth of God, was what I remember from this day. The grandeur of a simple scene of trees, a path, and golden sun. A reminder all that exists took billions of years to be just right for God to remind me to look and enjoy God's world.
I am thankful!
https://brucelhartman.com/wp-content/uploads/2023/01/IMG_0943-rotated.jpg
640
480
Bruce L. Hartman
https://brucelhartman.com/wp-content/uploads/2019/02/bruce-hartman-logo.png
Bruce L. Hartman
2023-01-11 21:52:33
2023-01-11 22:05:16
A Simple Picture of the Appalachian Trail