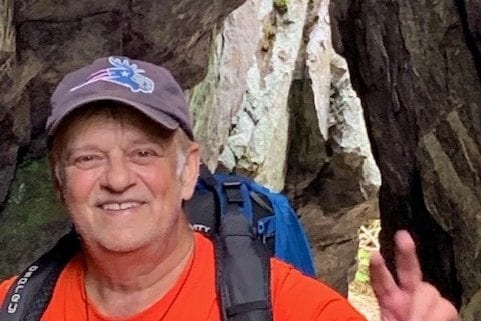 It's About the Smiles, Not Just the Miles
I saw him sitting at a diner, early one morning in Damascus, Virginia. He hobbled in with a cane and looked defeated. I could tell he was a hiker, he was wearing the rubber clogs we all wear and he hadn't shaved in a while. His head was down and his eyes had no life. He was defeated.
I said hello and asked how he was doing. He replied, "I am done and going home." Right there in the diner, he gave up his trek! The previous four days he had hiked over twenty-five miles a day. His goal was to get to Damascus and stay on his timeline. During the downhill stretch into Damascus, he hit some mud and fell on a rock. The fall plus the impact on his body from walking many miles that last four days were the final straws.
I knew telling him, he had just completed the hardest stretch for the next thousand miles wasn't going to change his mind. I have seen this look before. It's not just the fall and hard walking, he had no joy. His smiles were gone from chasing miles.
Early on we had been warned about chasing miles, by a former thru-hiker, Steve. He cautioned us to remember why we were hiking. To remember our goals and hike our own hike. Sure there are faster hikers and those that get caught up in imaginary rules. Our hike isn't their hike or vice versa. This is our journey and our time. Their hike is their hike. Steve's caution was wise. For this man, maybe forgoing a few miles would have prevented his defeat and allowed him to carry on many more miles.
We had three goals when we started. The first was to stay hiking for six months and visit all fourteen states. The second was to significantly increase our fitness. The third was to discover a simpler life.
To stay on the trail, there has to be joy. There has to be things that make the experience magical. Things like riding a bike alongside the trail on a perfect spring day and going by babbling brooks. Or seeing and being with the wild ponies on Grayson Highland. Or laughing when I went through the famed "Fat Man Squeeze" on top of Whitetop mountain. Or eating chocolate cake and a hotdog at a trailside cafe well before noon. These are the things that bring us joy on the trail. Off the trail, we absorb the life of the many small towns we pass through. There are so many things we have seen and experienced that now are irreplaceable memories. We know more are coming. Steve was right, it's about the smiles, not the miles.
When we fall behind or have to help a daughter move. We skip the boring segments. We still stay on schedule, but always remember our three goals.
When we started we wanted to get physically fit. In just a few weeks that has happened. We have lost some weight, and we are much stronger. We do the hills and are now stretching our days out to around fifteen miles a day. We always laugh at night, when we look at the App on our iPhone that says we walked forty thousand steps and climbed over 300 floors. This seems unreal and quite humorous. We can now pass other hikers here and there, instead of always being the ones getting passed. We are making progress, but have much more to go with our fitness.
Having a simpler life just happens when you hike this trail and are committed to really disconnecting. We eat, hike and sleep, that's it. All of our daily logistics center around, where are we sleeping? How are we getting there? Where is the next water stop?
Pretty much that's our day. In the midst of all this, each day we see the wonders of God's creation. We meet inspiring people. We visit the towns of rural America. We pat wild ponies. It's enough for us.
I feel bad for the man who quit. He passed up too many chances to see the Rhododendron's bloom. He passed by places with meandering streams. He missed the joyful things. He lost the joy that supports us on those days of trouble. He was slowly whittled away by the self-imposed rules that put his head down instead of up.
I could tell he was a good person. He loved his family and especially his three nieces. He is the kind of guy who you could trust. His moral compass was pointed north. He was stripped away by missing the point of being out here. It's your own hike and your not competing with someone else. It's about you and doing whatever you can to keep walking. To do this means making sure joy is part of your hike.
This journey is hard some days, much like life. But what would make it harder if we didn't do those things that give us lasting memories? This doesn't mean we don't climb big mountains or try hard every day. It means stopping on a bridge and debating where the trout are in the river. It means hiking within ourselves and walking to the beat of our drummer. Just like in life, it's hard to be great without joy.
Our Joy comes in looking back at the mountain we just climbed and being amazed that we climbed it to the top. Our joy comes with the people and places we see. It even comes just walking alone in our thoughts.
The smiles create the miles.
Blessings, until next time,
Bruce L. Hartman
https://brucelhartman.com/wp-content/uploads/2019/05/Bruce-image-5-29-blog.jpg
640
481
Bruce L Hartman
https://brucelhartman.com/wp-content/uploads/2019/02/bruce-hartman-logo.png
Bruce L Hartman
2019-05-29 02:30:09
2019-05-28 22:55:04
It's About the Smiles, not Just the Miles