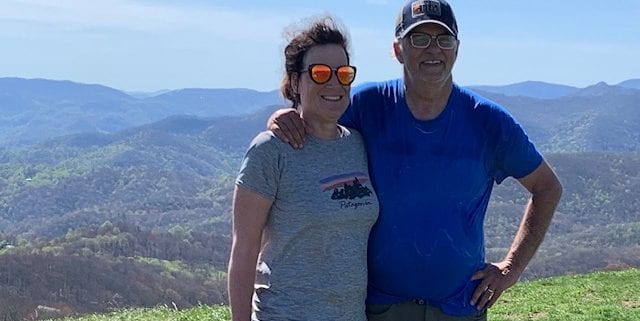 We are arriving in Roan, Tennessee, mile 395. Another great small town on the trail. We have had many moments of wonder. The joy of climbing up another mountain, amazing vistas, the serenity of being on top of Max Patch, and having a nap alongside a bubbling creek. There are many moments of joy from being surrounded by God's glorious creation.
By now the trail is less crowded and many have dropped off. We don't judge those who have quit the trail, because they have already encountered and accomplished many great things. As Teddy Roosevelt once said, "It's not the critic that counts, not the man who points out how the strong man stumbles, or where the diet of good deeds could have done better. The credit belongs to the person in the arena."
Being out here you appreciate this quote. Those who leave, leave not because they quit, but because of unexpected circumstances. There are many things that pop up along the way that can wear you down; weather, injuries, illness, lack of money or the pull of home. It is hard to climb two or three peaks in a day. It is hard to scramble over boulders. It is hard to trip and fall, once again.
Weather is a constant companion that needs to be watched carefully. Hiking in the rain, wind or cold makes for a long day. While many days are sunny and the trail gleams with the life of spring, thunderstorms, wind, and the cold spar with those who trudge on. A shelter may be many miles away.
Injuries pop up, not just from a single incident, but from the repetitive use of muscles and tendons. Some leave because walking long miles outstrips their bodies ability to recover. Perhaps it is blisters that won't heal or maybe a knee that got twisted and couldn't recover. The most common injury we see is knee pain, caused by the steep downhills. Knees that got wrenched from an ill-placed step. Or perhaps some unknown structural issue that pops up on a four mile downhill littered with roots and rocks, creating pain that prevents sleep.
Illness is a constant prey, waiting for an unsuspecting victim who forgot to wash their hands. It comes in the form of a Noro-virus. Many of the hikers at some point get sick because of this constantly lurking ailment. It takes up to four days to recover. Some have to leave because of this illness. Personally, we avoid shelters and tent to avoid disease. Even with this precaution we still caught the Noro-virus.
Many, particularly the younger hikers, run out of money. Unexpected problems pop up and require money to resolve. Perhaps a failed tent or an ill-fitting backpack, all of which requires money to fix. Perhaps a freak snowstorm and freezing temperatures that force us to go to a hotel.
When we are away for 6 months our families, friends, and home are far away. There are weddings, funerals, and illnesses that can be missed. The events of our families create homesickness and obligations to return. For some this long period of being away doesn't create a need to go home, for others they have no choice.
Many focus on the miles and not the adventure. Focusing on the miles can be daunting and overwhelming. They miss the babbling brooks, scenery and people. Focusing on the miles is a mindset brought to the trail from the outside. Creating an adventure is missed with this mindset. Sure we are proud of ourselves when we walk fourteen miles or make one last late day climb. But there is so much more to experience than just checking off the miles walked. Our friend Steve, a former thru-hiker, told us that those who worry about the miles fail to finish. Just walking the miles isn't enough to overcome the hardships. The experiences keep you on the trail. Every day is a new day with a new blessing.
It would be easy to judge those who leave, but those of us who are left know how hard they worked. From the third day climbing Blood Mountain and it's soaring heights. Followed by an extraordinary descent over boulders, we know what they accomplished. Getting to the 100-mile mark requires climbing 20+ peaks in a period of 8-12 days. Perhaps camping out in below freezing weather. By mile 100 they have tumbled and had a significant fall.
In our minds, those who were in the arena have tried. They haven't failed, they have experienced.
We march on knowing something new is down the trail.
Blessings, until next time,
Bruce L. Hartman
https://brucelhartman.com/wp-content/uploads/2019/05/BLH-blog-6.jpg
480
640
Bruce L Hartman
https://brucelhartman.com/wp-content/uploads/2019/02/bruce-hartman-logo.png
Bruce L Hartman
2019-05-15 02:30:43
2019-05-05 23:21:17
Trials of the Trail