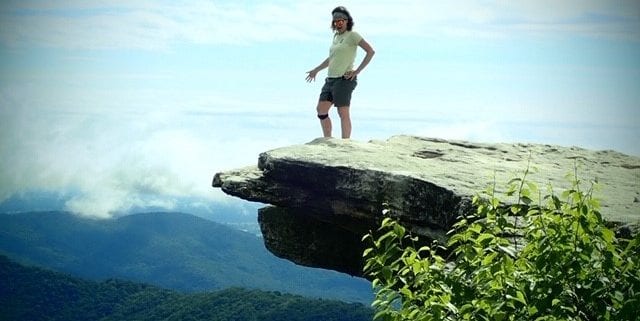 The Green Tunnel of the Appalachian Trail
We are closing in on Harpers Ferry or the emotional halfway point of the Appalachian Trail. While the real halfway point is Duncannon PA., for all thru-hikers this is the point we all have strived for. We have been through the mountains of the south and survived the longest state, Virginia. Behind us are the cold winds of early spring.
Now we all head north. Some will drop off at Harpers Ferry, but most continue. Those that are left on the trail now know what they are capable of and know what they need to do to complete this trek.
The trail is now fully grown in and the one color we see every day is green. The canopy we walk under is green, making it feel like we are walking through a green tunnel. This canopy protects us from the sun and keeps the lighter rain from getting us wet. From the trees we hear birds whistling, communicating through song to each other. They are our constant companions.
On the sunny days, the color of green is vibrant in its many hues. The brooks flow down the hillsides, making the soothing sounds ranging from a rushing roar to a soft babble of a slowed stream. On the mountain tops, the wind blows softly most days adding a cooling respite.
The spectacle of nature surrounds us. In this, we see the handiwork of God's creation. Even on rainy days, we are still surrounded by the glory of creation. Everything is green, making us more aware of the importance of being good stewards of the land. It is on these days when walking isn't a chore, but a dream fulfilled.
By now climbing is far easier than it was many weeks ago. Instead of dreading steep multiple mile climbs, we embrace them. The downhills are still tedious, not because we can't navigate the rocks and roots, but we still have to be very careful with foot placement. We have learned to take shorter quick steps on the downhills and have learned how to place our feet just right on rocks.
Our hiking companions during the day are smaller in numbers and a much younger generation. They are like hiking Ninjas that move gracefully up and down hills. They are fit and on a mission. We see them and then they are quickly gone. We admire their strides and youthful gaits. While we are faster and stronger, they move much faster.
We make up for a slower speed with a steady cadence and hiking in much longer stretches. Usually catching up to others at rest stops.
Each day we look for just the right lunch stop. Striving to find a fallen tree to sit on by a flowing stream. Or perhaps a group of rocks in a shaded grove. These are the moments we strive for during our hikes. Places that offer an interlude, to see all of God's glory. These are not things we can buy, but places to search for.
Over time we have become trail angels, we leave Gatorade at trailheads, buy other hikers dinner when they are in town or perhaps give a person a ride into town. These things give us joy. A chance to share our resources and honor these soldiers of the woods, those that march every day in the lush green tunnel.
We are turning north now and headed for Maine. A place of my youth, where friends and family will begin to join us on the trail. Giving us a chance to share this wonderful grandeur with those we love.
Ahead lie the mountains of Vermont, New Hampshire, and Maine. We will visit New York, where the trail comes so close to New York City, that on a clear day it can be seen from the Bear Mountain bridge. We will walk along the trail in New Jersey, our home for almost two decades. We will be in Massachusetts, where we met a young woman two years ago coming out of the woods, who unknowingly started the dream to walk this trail. We will begin the long walk into fall and towards our third season, fall. The green tunnel will turn into a collage of brilliant reds, yellows, and oranges. The days will get colder and shorter.
This tunnel has become a place that we love. A place that has strengthened us physically and mentally.
Blessings, until next time,
Bruce L. Hartman
https://brucelhartman.com/wp-content/uploads/2019/06/blog-21-image.jpg
640
640
Bruce L Hartman
https://brucelhartman.com/wp-content/uploads/2019/02/bruce-hartman-logo.png
Bruce L Hartman
2019-06-26 02:30:09
2019-06-17 22:30:54
The Green Tunnel of the Appalachian Trail