One Final Walk On the Appalachian Trail (For Now)
"Be careful how you live, live like those who are wise. Make the most of every opportunity and understand what the Lord wants you to do."
Ephesians [5:15]-17
Final Walk
On a clear and humidity free summer day, I made the final walk of our journey on the Appalachian Trail, in a remote part of Maine. Along with me was my mother and sister-in-law, Penny. The ending was perfect; the weather, the trail, great companions and no bugs! These were the final steps on a journey that began in March.
We decided to stop the hike in New York, and go to Maine. Beset with sore knees that no longer recovered in a day or two and having endured a fourth illness, it was time to stop and rest. We went to Maine to be with my mother on her birthday and visit family. After which we will travel to Ohio to visit Connie's parents and sisters. Then a final trip to visit our daughter, Savannah, in Seattle.
The rocks proved too much for us
The constant grind of stepping carefully over the many obstacles injured our knees. We had also noticed a different demographic over the last month. Young and fit hikers were all we saw. Sure there were a few people over forty, but those left from a journey that started many miles earlier, had much younger legs. They glided swiftly by us, on an appointed mission. While we were tired and worn down.
Family became a draw for us, as well as a publisher who wanted to become very involved in my new book release on September 3rd. So we packed up our memories and moved forward.
For the last hike, I chose to go to a place of my first walk on the Appalachian Trail forty one years ago. The remote wilderness of the Bigelow Range. Forty one years ago, with my good friend, Steve, I entered this wilderness and created a life-long love for the trail. On a three day hike with much heavier equipment than exists today, we walked the entire length of this difficult section, which followed many other journeys. Life of raising children and pursuing a career filled in this forty year gap.
But this day, was for sharing.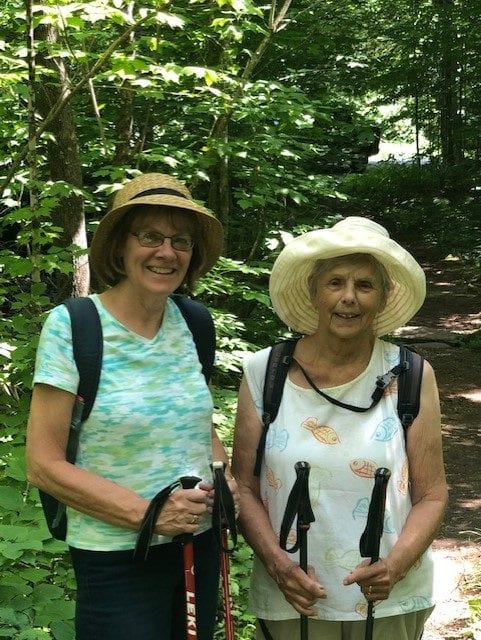 Bringing Penny and my mom to see the wonderful life that exists, away from the bustle of modern life. A day to show them how to use hiking poles and what to observe when you walk. We went up a few moderate climbs and they learned the technique of climbing and that descending was much harder. I was especially proud of their zeal and willingness to try.
They did well.
My mom, at eighty six, stepped carefully and skillfully down the declines and after a few steps looked like a seasoned hiker. Penny embraced the woods and gleefully looked at the trees.
We had lunch sitting on the rocks on the shore of Flagstaff lake. A simple lunch that I packed in the morning, consisting of peanut butter, triscuits, raisins and a cookie. Just like what Connie and I had every day. We sat observing the peacefulness of a blue lake without the roars of motorboats and few sounds of civilization.
On the way home, we had no cell service and the car navigation system broke. Leaving us to find our way home, the old fashion way. By remembering landmarks we had seen on the way up and an atlas that Penny used. My mom did most of the remembering and helped keep us on course. Revealing a keen mind for the little things we often miss when we use modern navigation. Teamwork at its best.
I am sad we didn't finish we what started out to do, and know some will say we failed. But I don't feel like we failed. We hiked hundreds of miles and climbed countless peaks. On some days we marched over twenty miles. We strengthened our endurance through the many days of hiking six to eight hours.
We stepped close to three million times on this journey. Climbed close to a quarter of a million feet or the equivalent of Mount Everest 10 times.
We were in the arena that Teddy Roosevelt talked about many years earlier. We were not victors, we can only claim that we participated. But life isn't about the critics who sit watching those in the arena, it is about those who try. These words by Teddy Roosevelt resonate today.
Remembering Our First Day
I remembered our first day, which opened our eyes to what this trek required. How hard the day was and the encouraging people that propelled us forward. Or the third day, when we were pelted with ice. Or the day in Virginia when we climbed five thousand feet. The day we went to "Fat Man Squeeze" and I actually got through. Or on one of our final days, climbing up a steep rock formation. We changed from the first day to today, and I suppose that is the purpose of this trek.
We learned the subtleties of nature.
I personally, began to lose my fear of exposed heights. We learned that those who shared the wilderness with us, are an optimistic and pleasantly polite people.
We also learned that a good life can be led simply. Away from the distractions and lures of modern life. We learned life doesn't have to be a life surrounded by things, but a life of purpose. Not looking for things to do, but a guided life to do good and help others.
I will miss the morning routine of getting ready to hike. I will miss climbing up steep hills, lunch by streams, the surprising encounters with wildlife and the fatigued feeling at the end of the day.
We learned about the importance of water and how to get water many miles from a faucet. We learned about staying fueled, not with a lot of food, but just the right amount.
We met amazing people with wonderful names, like Single Track, the Caribbean Queen, Camel, Coldfoot, Pippi Rambo, The Rev, Journeyman and so many others. Each visit involved smiles.
My last hike was one hundred and sixty miles from our goal, Mount Katahdin. But now it is time to return and move forward with our lives. As Connie once asked, "Who knew we would love the mountains and lakes?" We will return to a life that involves continuing to hike and mountain bike. But also a life to help our children, help others, write and visit family.
Perhaps I will return again next spring to the trail I love.
Blessings, until next time,
Bruce L. Hartman
https://brucelhartman.com/wp-content/uploads/2020/10/adismara-putri-pradiri-e7-9pctPO0M-unsplash-scaled-e1602714872364.jpg
934
1400
Bruce L Hartman
https://brucelhartman.com/wp-content/uploads/2019/02/bruce-hartman-logo.png
Bruce L Hartman
2019-07-31 02:30:17
2021-05-19 04:30:55
One Final Walk on the Appalachian Trail