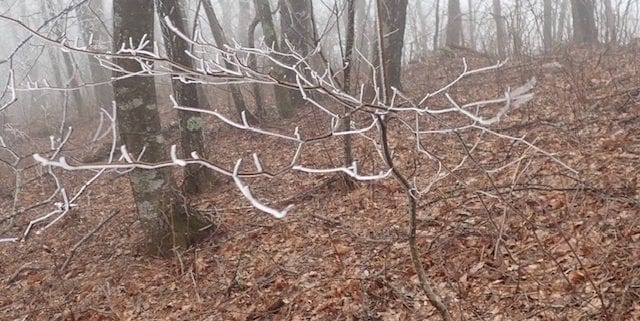 INTO THE WOODS
We have finished the first 69.2 miles of the Appalachian Trail. Quite an experience being immersed in the woods every day. Every day is hard, educational and very different than living out of the woods. Each day is its own day and each hour has exciting moments.
Each morning, our schedule has us climbing a mountain. Sometimes it is 500 feet over one mile or tougher climbs like 1400 feet in a mile and a half.
We try to walk around ten miles a day, which involves 2500 to 3500 feet in total ascent. At the end of each day, we are tired but grateful for what we have seen and learned.
We have learned to go slow and break the day into four or five segments. Sometimes it's a two-mile downhill segment. Or perhaps a key vista a few miles out. Doing this makes the ten miles manageable.
We have learned water and food are the number one priority each day. Any time we find a stream, we "Water Up." This is always an event because we don't just go to a tap. We first fill up from a stream into a separate container. Then using a filter we drain the water through a filter into a Smart Water bottle. Next, we add electrolytes to replace those we have lost. We drink around 3-4 liters of water each day.
Likewise, food is also fuel for walking. In general, we eat 4000 calories a day. This is spread out over five meals. Breakfast is eaten before we start, usually cold oats or a couple of breakfast bars. Followed about two hours later with enriched biscuits called Belvita biscuits. Lunch usually is another two hours and consists of peanut butter sandwiches or salami and cheese. Followed then in another two hours with a Snicker bar. The commercials are true about Snicker bars, they really boost your energy for the final hills of the day. Dinner is trail mix, which might seem odd. But it is easy to carry and from a small package, you can get 700 calories with a good balance of protein, carbohydrates, and fat.
We have also learned to carry only what you need. We use a bounce box that contains items we will need in the future and forward to our next rest stop a few days later. The weight of a pack is very important from both an exertion point of view and balance. Too much weight and your balance is affected and subjects you to falls.
They tell us we pack our fears. For instance, if you fear running out of food, you will pack too much food. If your fear is being cold, then too many clothes. Fortunately, there are good examples of what a well-packed backpack contains. With this reference you know to only pack 2 sets of clothes, rain gear, and a puffy jacket. Or to pack 2 pounds of food for each day you are going to be between resupply points. In total, keeping your gear to 25 pounds is vital.
We have learned that we can climb 4000-foot peaks. We have learned on those nights that are close to freezing, you keep your entire body in your sleeping bag. We have also learned that of the forty or so items you carry, you must be very disciplined in keeping track of each item. We have learned to be very disciplined in all that we do.
We have learned to go slow and be purposeful. At first, we got dismayed when much younger hikers would go by at a quick pace. But we also were told that can cause injuries by an experienced hiker. Even an inchworm can climb a mountain. He told us to be patient and in a few weeks we will have caught up.
We have also discovered God, not just in nature and our personal circumstances, also in other people. On our fourth day, after a very tough morning and having forgotten our lunch, we came to a parking lot to find a man who was giving away pork soup and coffee.
The weather was horrible that morning, forty mile an hour winds and freezing temperatures. The wind blew so hard that it pelted us with ice crystals that came from tree limbs. In all this, we got to see the magnificent scenery of a grove of trees encased in shimmering white. (The picture from that scene is the image for this blog)
No lunch and being cold, the soup was a welcomed sight.
This is an event is called, "Trail Magic" on the trail. It happens at some road crossings, where local people feed or supply water to hikers. It may be soup or donuts or jugs of water. Bob, the man who provided the soup is called a "Trail Angel."
Bob, was the first trail angel we met. In 2014 he had been diagnosed with cancer. Concerned with his health and the uncertainty of his condition, he went up into the mountains to pray. He felt that God told him he would be okay. Overwhelmed and in tears, he promised God that he would help hikers as a way to give back.
Bob, was cured. Each weekend during hiker season he hands out trail magic. He is kind and offers a great conversation with his gifts. A man who was saved through his faith that helps others.
On our seventh day, after a very hard climb, we found a summit with incredible views. We had arrived there with a woman called, Coyote. This was her trail name. Thru-Hikers on the Appalachian trail don't use their real name, but their trail name. Trail names are very personal and tell you something about the person. Names are given out by others or something you give yourself. Coyote was named because each time she summits a peak she howls.
We had spent the previous night camping next to her. During that time we discovered a remarkably happy person with a very fast wit. Coyote came from a modest background, growing up in rural Tennessee. What she had in life was earned in a very hard way.
She had mentioned to us twice she was a cancer survivor. So we probed to find out why she mentioned it. She proceeded to tell us that she had stage 3 cervical cancer when she was 25. After a number of surgeries, she was cured but left infertile.
When she was young, she wanted to have a family. This was her big dream. Now that dream was gone. For the next tens years, she was depressed and suffered from anxiety. She spent these years angry at life, her friends, her husband and especially God.
She started hiking. At first with groups and then herself. On these solo hikes, she talked with God. At first angry and then questioning why this it happened to her. Over time she regained her natural gift of joy. She had found God again. She had a new purpose and it was to live life with purpose and joy.
She is walking the Appalachian trail to discover more about her future. She is grateful for her husband, who stood with her on all those difficult days. I am not sure where her story ends but am thankful for the joy she gave us.
We have learned a lot, but mostly no matter how much we prepare, God is in charge. We find this out each day through events and our lessons.
One of the highlights of our day is our morning prayer. We pray for guidance and thank God.
On the trail, there is a saying, "The trail will provide." And it does, through God, the trail has provided to us.
Blessings, until next time,
Bruce L. Hartman
Photo by Francesco Gallarotti
We love giving credit to budding photographers to help them gain more exposure.
https://brucelhartman.com/wp-content/uploads/2019/04/IMG_0240.jpg
480
640
Bruce L Hartman
https://brucelhartman.com/wp-content/uploads/2019/02/bruce-hartman-logo.png
Bruce L Hartman
2019-04-10 02:30:37
2019-04-10 12:34:51
Into the Woods