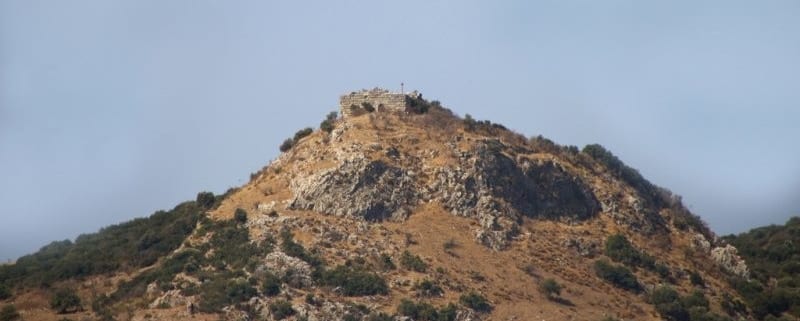 Since, then, you have been raised with Christ, set your hearts on things above, where Christ is, seated at the right hand of God.
Colossians 3:1
If you visit Ephesus, in all likelihood you will see a small tower in town that the locals will tell you it is the prison Paul was in when he wrote Colossians. Now, nowhere in the Bible does it mention Paul was in prison in Ephesus, leading some scholars to think this is a traditional aspiration on the part of the citizens of Ephesus. Maybe it is or isn't, but it certainly makes for an interesting discussion.
But what we are sure of is that Paul did write some of his letters while sitting in prison, three in fact. They are Philippians, Philemon, and Colossians. They are called the Prison Epistles. Whether or not they were written in a Roman prison, Ephesus or somewhere else is interesting, but not the real story. It's more about Paul's commitment to Christ, despite his circumstances.
So it is easy to miss Paul's commitment to his work, as we read his letters. But let us put ourselves in Paul's shoes. His trials and dangers during his three missionary trips are legendary. And that is what is important. His rock-steady commitment to spreading the Gospel throughout the Roman Empire is not just a fictional story, it was real life. Filled with danger, resistance, physical harm, and prison stays.
Imagine ourselves, sitting in prison, all because we preached the gospel. Would we have stopped to pursue a less turbulent life? Could we have focused on the mission, while surrounded by jail bars? Well, Paul did, and not only that, some of his best writing came while sitting in a dank and dark prison. Now to me, that shows exactly how much Paul trusted God.
So, when we read Colossians this is a good thing to keep in mind.
Another interesting historical note about Colossians is that Paul never visited Colossae, a small town in current-day Turkey. The church was established by a convert of Paul's, Epaphras. Epaphras was successful in getting the church started and off the ground. The church blossomed and many started attending on a regular basis.
But as is normal for any new organization, outsiders started to try to change things. Things like mixing Christianity with worshipping pagan festivals. Others tried to introduce human philosophies to mix in with Christian theology. Still, others tried to introduce restrictions based on Judaic traditions.
Most importantly people started giving the church theories about Jesus and his origin. All of which was off target.
Paul, by now has had a great experience with these outside influences and knew just what to say to the church in Colossae. So, instead of bemoaning the fact he was stuck in a prison, he wrote this wonderful letter to the Colossians.
For instance, in regard to Jesus and his origin, Paul writes; For in him all things were created: things in heaven and on earth, visible and invisible, whether thrones or powers or rulers or authorities; all things have been created through him and for him. (Colossians [1:16])
So here it is, one of the most articulate and understandable statements about who Jesus is and his origin in the Bible. The ruling authority of all that exists, both visible and invisible. All created by Jesus and for Jesus. The bottom line, Jesus is the boss of everything he created!
The second thing Paul does with this letter is to make sure the church knows how proud Paul is of them. And when you read chapter one, you will see his praise. In verses 3-4, Paul says; We always thank God, the Father of our Lord Jesus Christ, when we pray for you,4 because we have heard of your faith in Christ Jesus and of the love you have for all God's people—
Now, this piece is very important, Paul is letting them know they are on course and to continue and not let others tell them differently.
When you read this book, and it doesn't take long, you will find it is full of wonderful theology and statements about being a Christian. So many, you will find yourself highlighting many of the passages. One of my favorites is; Since, then, you have been raised with Christ, set your hearts on things above, where Christ is, seated at the right hand of God. (Colossians 3:1)
The reason I love this verse is Paul is doing what he is writing. His complete focus; and I really mean complete, was to focus on following Jesus. Nothing else is more important than following the ways of Jesus to Paul, not prison, beatings or scarcity. He stays committed no matter what happens to him. And he keeps doing the job Jesus has given to him; converting the Gentiles.
As I said before, Colossians is filled with short but powerful statements about what Christian life is and looks like. Listed below are some of these verses you will encounter.
So then, just as you received Christ Jesus as Lord, continue to live your lives in him, ([2:16])
Put to death, therefore, whatever belongs to your earthly nature: sexual immorality, impurity, lust, evil desires and greed, which is idolatry. (3:5)
Devote yourselves to prayer, being watchful and thankful. (4:2)
Bear with each other and forgive one another if any of you has a grievance against someone. Forgive as the Lord forgave you. ([3:13])
Set your minds on things above, not on earthly things. (3:2)
By no means is this list complete, but it gives a general idea. An interesting exercise when reading this book is to highlight these phrases that you like. Colossians is so rich in Christian statements; I suspect you will highlight half the book!
Colossians is a valuable addition to the New Testament for us. For history buffs, it is written to a church that Paul didn't start and shows the power of the Gospel in the 1st century. The church was growing without Paul's direct influence, but still much related to him.
For us, in the 21st century, if you want the Readers Digest version of the purpose of Jesus and how to be a good Christian, here it is in Colossians. The language is clear, and concepts vibrantly expressed.
The next time you have a few minutes, read Colossians with this background and it might become one of your favorite places in the Bible.
Author's note: I have been very clear that I believe Paul wrote this letter and a number of scholars agree. But you should know there is some disagreement as to its authorship. I suspect that Timothy helped draft this letter with Paul, which has created this scholarly concern.
Click here to listen to the podcast
Blessings, until next time,
Bruce L. Hartman
https://brucelhartman.com/wp-content/uploads/2020/04/ephesus.jpg
455
800
Bruce L Hartman
https://brucelhartman.com/wp-content/uploads/2019/02/bruce-hartman-logo.png
Bruce L Hartman
2020-04-19 20:20:03
2020-04-19 20:32:20
Colossians: Working For God While In Prison