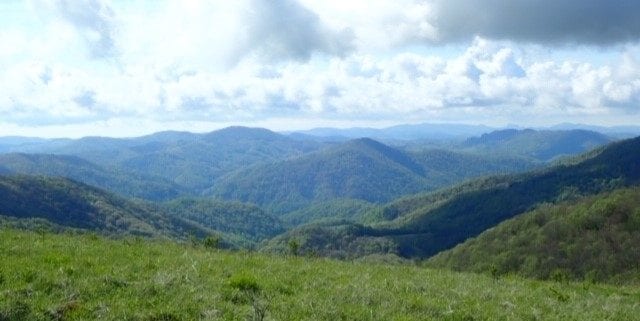 Climbing Peaks
We are approaching mile 600 and the big mountains are past us now. While many still exist, they are less numerous and generally smaller. It's not until we hit New England will the steep climbs reappear. One of the sayings we hear a lot is, "Never decide to quit on a climb." We certainly are aware of this temptation. Steep five-mile climbs are daunting and test our perseverance.
The toughest climbs are those that range from 2 to 6 in miles length. And it is the grade that counts. For instance, a 5-mile climb that only goes up a 1,000 feet is not too severe and can be handled fairly easily. The grade on this climb averages 2%. However, an ascent of 2.5 miles with an altitude gain of 2,000 feet is very different. The grade averages 16% on this ascent, with parts of the climbing hitting 40%!
During the first 500 miles, many days involved multiple climbs. Some days we ascended over 4,000 feet. Or equal to climbing the Empire State Building close to 4 times in a day. Without a doubt, climbing is the hardest and most discussed part of hiking the Appalachian Trail by hikers.
We plan everything around these ascents. We try to start the day with a big ascent. We plan where we eat or get a water based on the climbs we have to make.
The key to hiking up these big ascents is based on conditioning, weight, leg length and coping. The first three are obvious what is required. The better your physical fitness the easier the climb. Extra Weight with both the backpack and body will slow you down. Leg length is the length of a person's gait. The longer the gait, the easier to climb. But coping skills are the key to any ascent.
Connie sings hymns when she climbs as her coping mechanism. I pray at the start and break the climb into manageable parts. The first steps are hardest! But as we keep moving it always gets easier. Part of coping is being patient with your pace. In other words, if it's steep, naturally you will go slower, which is okay. Thinking about how much you have to go is defeating, it's far better to stay in the moment and not worry about what's left. Staying focused on what is directly in front of you is critical to coping. Even an inch can climb a mountain.
Hiking poles help a lot. Coordinating your steps with your hiking polls give you the opportunity to also pull yourself forward. Similar to cross country skiing, coordinating your stride and your poles is important. Effectively adding more power to your climb. This takes time and conditioning to learn, but once learned greatly reduces the efforts.
We also use smaller hills to improve our conditioning. For instance, if have a hill that's less than a one mile climb, we try to keep our pace the same as if we were on a flat stretch. Attacking these smaller climbs in this manner, while exhausting, improves our conditioning for the bigger climbs.
When we first started, it could take us an hour to climb 1 mile on the steepest terrain, with many stops. Today, we can climb at 2 miles an hour and generally not have to take a break.
Pace is an important measurement of conditioning. On flat terrain with few rocks and roots, we can now hike three to four miles in an hour. Our pace slows on the steep climbs not just because of ascent, but also the obstacles, like boulders and roofs. Pace is also affected by the breaks we take as well. Breaks for rest, food and bathroom, slow us down. A good day is anything above two miles an hour. This is the average pace for most hikers.
When we do reach the top, it is surprising how quickly the climb efforts are replaced with a sense of accomplishment. And after 6 weeks of climbing on a regular basis, we quickly recover now. At the top we also quickly forget the struggle of the climb, our breath returns to normal and we move to the next segment of the hike. But always grateful for completing the challenge.
While we are glad the first 500 miles, with the big climbs, are behind us, keeping our climbing conditioning is important for the last 500 miles of this journey. New England is the last 500 miles and has steeper climbs than what we have done. As we move through the flatter part of the trail, we know that each climb is important in preparing us for the mountains of New England.
Climbing is a lot like life and faith. True accomplishments aren't achieved without effort. We have found the more we climb, the easier it is. Not that the climbs aren't hard, they are. But we have learned how to cope and the exhaustion doesn't last as long as the joy is sustained. Our lives are like that as well. This will be something we take away from climbing.
So it is with our faith. We pray more out here and we see the work of God more often. We see it the natural beauty and how connected nature is within itself. We see events that at first seem ordinary, turn into faith messages. We have fewer distractions, which helps us be more immersed and observant. Climbing mirrors this, faith requires an investment that is a sustained effort. The more we look for God, the more we see God.
For us it is in the morning prayer we say at the beginning of each day's hike. As well as the thankful prayers at meals. Also, with the daily struggles that we pray. We receive and see our answers throughout the day.
Climbing is hard but worth the effort. It makes us stronger. We get to see the wonders of God in person from lofty peaks.
We don't like to climb, but we have to climb if we want to succeed.
Blessings, until next time,
Bruce L. Hartman
https://brucelhartman.com/wp-content/uploads/2019/05/Image-for-Blank-10-5-22-19.jpg
481
640
Bruce L Hartman
https://brucelhartman.com/wp-content/uploads/2019/02/bruce-hartman-logo.png
Bruce L Hartman
2019-05-22 02:30:27
2019-05-23 13:53:58
Climbing Peaks