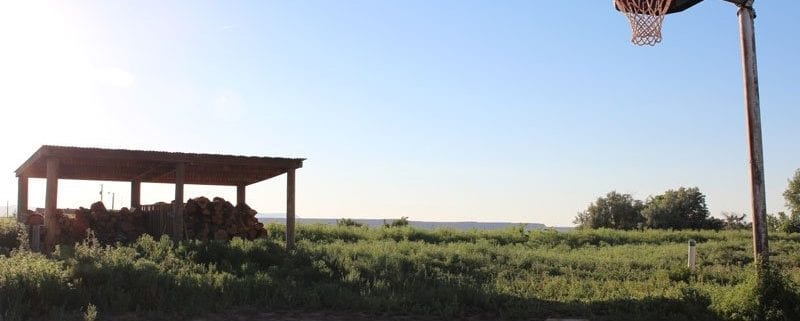 Beyond Basketball on a Navajo Reservation
So do not fear, for I am with you; do not be dismayed, for I am your God. I will strengthen you and help you; I will uphold you with my righteous right hand. – Isaiah [41:10]
Josiah Tsosie couldn't believe the words he'd just read. For four years, he had kept his head down and thought of only two things: playing basketball and studying hard in high school. He was a quiet person whose face showed quiet determination. He was unwilling to give up when things were tough and was unbending in his resolve to be the best person he could be. But now, in this moment, four years of stoic determination had been rewarded.
Josiah is a Navajo American who went to high school in Chinle Arizona, an extraordinarily poor Native American reservation. Most homes do not have plumbing, and many families go to the local wells to get water for the day. There are only two paved roads in this town of 4,500 people. When Josiah shoots hoops with his friends, he does it on a dirt basketball court.
Josiah's father died when he was young, creating a large hole in his heart. Josiah thought of his father constantly, and his spirit was with Josiah daily.
Chinle is located in the center of a massive reservation that is part of three states—Arizona, New Mexico, and Utah. The reservation is larger than ten of the fifty states. The 300,000 Navajos who reside there are the second largest of Native American nations.
The Navajo were fierce warriors and skilled horsemen. However, they were no match for the United States Army and, in the late nineteenth century, they were imprisoned on the land that is currently part of their reservation. 9,000 Navajo were forced to march 300 hundred miles. Many died. The Navajo call this journey the Long Walk.
A proud history
The Navajo people are proud of their history and have worked hard to assimilate into our larger society. They were critical participants during World War II, many performing the role of "code talkers." Despite efforts to segregate the Navajo, they were fully integrated into the armed forces. In fact, the Navajo have the highest percentage of people who serve in our armed services.
The Navajo story today is one of poverty and limited resources. They have won some money in the form of repayment for the land that was taken from them, but the general populace earns below minimum wage. Forty percent live below the poverty level.
Medically, they are four times more likely to have diabetes and are highly susceptible to alcoholism. Unregulated uranium mining has increased the risk of cancer.
The future for their youth is dim. However, the Navajo nation has invested heavily in education, and their high school facilities are equal to those in other parts of the United States. In fact, the basketball facility in Josiah's high school rivals that of a medium-sized college.
This is Josiah's world.
His only way out is through college. His basketball team, the Chinle Wildcats, have historically not been good. But in his senior year, they hired a new coach who had a history of success—Raul Mendoza. Mendoza is also a native, though from another tribe. Josiah's other teammates were strong, and they could potentially now compete for a state championship.
They finished the regular season ranked eighth in the state of Arizona, with the entire community supporting and cheering them on. Many times, their away games required travel of two to three hours. In the state tournament, the team won the regional title and then it was on to the round of sixteen. The boys and town had high hopes. Was this their year?
Undersized but faster than their competitors, their style of play was one of quickness, strong defense, and great shooting. They called it "Rez Ball." They won their next two games and were in the Final Four. However, their basketball story ends here; they lost in the semi-finals.
Josiah was disappointed and dejected.
Here was a chance for him and his nation to be on top. That chance was now gone. All that appeared to be left for Josiah was to finish high school and prepare for life on the reservation.
After the tournament, the athletic director asked him and his mother to meet him in his office. They were unsure of the purpose of the meeting. The director slowly slid a yellow envelope over to Josiah and asked him to read the material inside. Josiah pulled out the letter in the package and began to read.
In a moment of disbelief and shock, Josiah began to understand what the letter meant. His four years of hard work, strong peer leadership, and commitment had paid off. He was going to be able to go to college after all. He had been accepted on a full academic scholarship to Arizona State University. In that moment, the clouds of his life parted, showing a patch of blue.
Only time will tell
The many years of stoicism and determination had paid off. His eyes reddened and tears dripped down his nose as the reality of the moment hit him. Likewise, his mother sat stunned and weeping, finally free of worry for her son. He'd gotten a long-deserved break, he had a future beyond basketball.
The athletic director had noticed how hard Josiah worked over his four years in high school. He knew Josiah was too small to get a basketball scholarship and took it upon himself to apply for an Obama scholarship for Josiah. President Obama had set up a program for disadvantaged youth to go to college who otherwise wouldn't be able to. Josiah was one of the recipients that year.
Josiah's prayers had been answered—not in the way he had expected—but in God's way. Josiah had worked hard and was a model son and brother. He was a leader in school through his high character and quiet demeanor.
God often works this way.
Our prayers are not always answered in the way we expect them. Many times, they are answered in unusual ways, intimate and very personal. That is how we know God hears us. God had heard Josiah's prayers.
Josiah's answer changed his future; he would now go to college and then return to Chinle to help his people with their futures.
Blessings, until next time,
Bruce L. Hartman
Dr. Bruce L. Hartman is the author of Jesus & Co. and Your Faith Has Made You Well.
Photo by The Honest Company on Unsplash
We love to give exposure to budding photographers
https://brucelhartman.com/wp-content/uploads/2019/09/shanehoop-800.jpg
500
800
Bruce L Hartman
https://brucelhartman.com/wp-content/uploads/2019/02/bruce-hartman-logo.png
Bruce L Hartman
2019-09-19 02:30:23
2019-11-07 17:56:36
Beyond Basketball on a Navajo Reservation