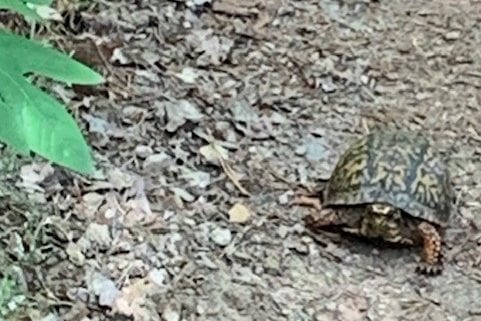 Bears, Snakes, and Ticks; Oh My!
We are finally deep in the Shenandoah's. A long-awaited visit to what many say is the prettiest part of the Appalachian Trail. The long stretch of Virginia is almost done. A place we will miss, with Its wild ponies, fields filled with cattle, it's a lush green canopy and majestic views from places like Mcafee's knob. On we march towards more of God's grandeur and places, we have lived.
The wildlife we see surprises us every day. We see hawks soaring along the ridges. We pass by deer grazing in the woods. But we always alert for black bears, snakes, and ticks. They are the worrisome companions on the trail.
We have not seen any bears. We have heard then in the dark underbrush when we walked past. Black bears snort when they are startled, which is the sound we heard. It is distinctive and loud when they snort. Our good friend Mike encountered one while walking in Tennessee. He came around a corner and surprised a black bear just 10 yards away. He stopped and backed up slowly. The bear-sized him up and ran off. Another person we met, had his food bag opened up in the middle of the night, forcing him to break camp and walk 12 miles to Damascus in the dark. The bear meant no harm, just wanted his food.
Black bears are very shy and generally run away at the sight of humans. Attacks are very rare, about once a year in all of North America. Most of the attacks occur in northern Canada or in Alaska. Most of the human and bear interactions occur because of bears looking for food at campsites late at night. To prevent these hikers hang their food bag in a tree that has a branch 20 feet off the ground and 4 feet away from the trunk. It is quite a sight watching the hikers throw a rock with a rope attached to create the line necessary to hang the food bag. Everything that is food, used food wrappers and even toothpaste goes in the bag. Bears have a very strong sense of smell and are attracted to these smells. Apparently, they love chocolate! Doing food bag hanging prevents bears from stealing food and becoming habituated to human food. Bears that become habituated can become pests and sometimes dangerous.
While we haven't seen a bear out here, surprisingly we have seen many while living in Asheville.  One morning while walking to Starbucks near downtown, I saw a bear wandering the streets. He spotted me after I saw him first, which made him quickly turn around and disappear. We often see bears while we are driving and have seen them playing in our backyard.
While bears are shy, they sometimes will stand their ground. In those cases, we have been given directions by the forest service as to what to do. First, do not run away, but back away slowly. If you are with a group, stand together, as bears have very poor eyesight and the group will appear larger. If alone, make yourself look bigger, raise your arms while slowly backing away.  There has only been 1 bear attack on the Appalachian Trail, but plenty of encounters. Our friend Steve, a former thru-hiker, says that he saw a dozen or so during his hike, but never was able to take a picture because they ran away to fast.
By not practicing safe food storage, hikers actually do harm to the bears. As they get used to finding food, they become habituated to human food. Making them more comfortable around hikers. In turn more aggressive and potentially having them being relocated or worse, destroyed.
Snakes pose a bigger problem, as most days we see one. They usually are sunning themselves on the trail and can be hard to spot amongst the branches on the trail. The most common snake we see is the common Garter snake. But we have had to walk around a couple of Rattlesnakes. Generally, they remain docile if we don't approach to close and give them a wide berth. There are also Copperheads as well. They are less common and are principally found in the south. Being careful with snakes is important because we often see them miles from a road and getting bit would create a delay in getting proper medical treatment. Most encounters by us and fellow hikers are uneventful, as the snakes will only attack if they feel threatened. We always walk with our head down, helping us look for them, so as not to step on or scare the snake.
Ticks are the biggest problem for hikers, especially the further north we hike. It is inevitable that one will land on a hiker. So it is important to get them off quickly and coat clothing will a bug repellent called Permethrin. Each night we inspect ourselves for ticks. The ticks can carry Lyme disease and if not properly treated can cause serious medical problems. If you ask the hikers, this is their biggest fear. Statistically, ticks are the biggest threat, not bears or snakes.
Surprisingly, we crossed paths with a young male deer. The deer wasn't alarmed at seeing us and stayed on the trail eating leaves. Despite our protestations, the deer wouldn't move. No amount of noise could change his mind. After fifteen minutes or so, I carefully walked around him, closely followed by Connie. The deer, kept a close eye on us as we walked by, but showed no fear or anxiety. Later, I researched this behavior and found that with male deers this is not that uncommon. Hmmm, a new discovery found on a rainy day in Virginia.
We enjoy seeing wildlife. We have seen a Snapping Turtle surprisingly far from water. It bravely stuck its head out as we approached and was clearly not going to move. After a moment or two of looking at it, we walked safely around, wondering how and why it was at three thousand feet above sea level and far from water. We have seen a baby fawn with a broken front leg stumbling, leaving us sad and with no way to help. Later, we told a park employee of the situation and the exact location, hoping they could help.
Every day is filled with birds singing and whistling. A symphony of sounds filling the air. The chirping is ever present. Sometimes when we whistle, we think they whistle back.
There are always bugs that crawl and fly. The flying bugs sometimes bite, leaving us every day with a few welts. As time has moved on they become less annoying, as we have become resigned to their presence. We have bug nets when they get too bad. But we have gotten used to these unwanted guests.
Almost every day we see animals out here, we try to avoid disturbing them. Our only intent is to see and enjoy. It is their world we are visiting, we are guests. They add to our joy and the lessons we learn.
Blessings, until next time,
Bruce L. Hartman
https://brucelhartman.com/wp-content/uploads/2019/06/blog-20-image.jpg
640
481
Bruce L Hartman
https://brucelhartman.com/wp-content/uploads/2019/02/bruce-hartman-logo.png
Bruce L Hartman
2019-06-19 02:30:41
2019-06-17 22:16:38
Bears, Snakes and Ticks; oh my!