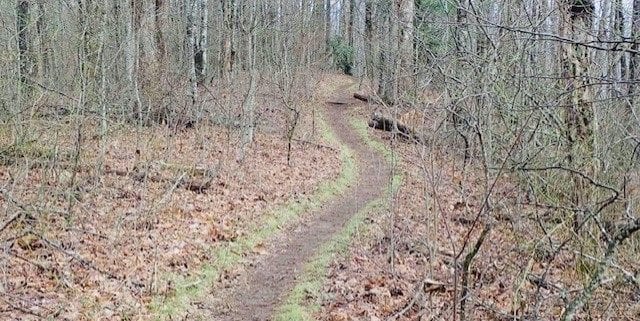 MILESTONE ON THE TRAIL
This week we passed two milestones that are important in providing a sense of accomplishment. We left Georgia and entered North Carolina. The first big test of any true hike! Then two days later we got to the 100-mile mark. While small for the entire journey, they are huge for our confidence. By now at least 25% have dropped out. Hitting these marks at least told us we were accomplishing something.
The trail is both hard and eye-opening. For us, the climbs are acts of patience. The younger trail hikers storm up the mountains and we plod along. Walking with measured steps and creating benchmarks to hit on the way up. In doing this we make the 1000 foot or more climbs manageable. Sometimes each tenth of a mile is hard and that is all we can focus on. When we get to the top, we replace patience with joy. Another peak climbed. Each one gives us more confidence.
We are also seeing that life can be very simple. Sometimes our entire day is just walking, setting up our tent, and eating. In this simplicity, we see what is important. Life boils down to food, water, and shelter. But for us to be happy, that is all we need. It is fun to walk with each other, Connie and I alone for most of the day just discussing our daily goals, life, our friends, our daughters and where we are going. The days are simple and fun.
The only thing we get anxious about is where our next water supply will be. Learning to never pass by a stream close to the trail. It takes fifteen minutes to get water. We must filter, put in our electrolytes and make sure we know where the next water source will be.
At each stop, we have to be very disciplined in making sure we leave nothing behind. We always take one final look before we leave. We have heard this is so very important. In fact, we heard about a person losing his tent. Everything we carry we have to use every day.
At night in the camps or shelters, we find people. Sometimes a dozen and sometimes forty, just setting up their tents, having dinner and then socializing. A wonderful community of people who help and provide each other support.
The younger people go faster than us and some do twenty miles in a day. Some are faster than us but walk the same ten to twelve miles a day we do. We are slower, at 65 I can't walk as fast as the twenty-year-olds, but we walk longer.
When we venture into town, we see a different world. People going to work and living lives. Many very ordinary people just living life. In the trail towns, they care for the thru-hikers.
As thru-hikers, we are very recognizable when we are in town. We wear clogs in town. The men are unshaven. The women wear bandanna's or scarves on their heads. We all have the same clothes on from yesterday. We buy food for the next few days and rest our legs. We are minor celebrities and the town people accept us and help us.
The stories of faith keep appearing on the trail. On a tough climb this past Sunday we met Pippi Rambo, her trail name. A very large woman in her twenties that walks slowly because of her size. But every day she comes into the camp, maybe a few hours after everyone else, but she arrives.
On top of this mountain, we talked on this Sunday morning. Pippi told us that she was tired of being an inspiration to others. Because of her very large size, people come up to her and tell her she was an inspiration. She doesn't want that; she just wants to be a thru-hiker. And she is.   Being an inspiration isn't why she hikes. She wants to be normal and nothing more.
She is a quiet Christian, who recoils at overly zealous evangelicals who told her she must proclaim her faith every day. She is shy and doesn't want that. She just wants to love God and help others. That is her way of proclaiming, not talking just doing.
I reminded her of the Good Samaritan that Jesus talked about. How two proclaimed pious people walked past an injured man. Even to the point of walking to the other side of the road. Followed by a person from Samaria and a different community, who helped tend to the injured man and provided him with safety. For me this was an example of our Christian attitude, we should have within us, doing versus saying is the essence of faith.
We left her with a closing comment that she was a good person. Typical of Pippi, she said we were as well.
On another morning I sat down with a man for breakfast. He had intended to hike last year. But five days before he was supposed to leave his wife came down with pancreatic cancer. His next nine months were spent nursing his wife, who died this January.
He told me he had seen things with her death that no person should ever have to see. But dutifully he fought alongside her, despite the inevitable.
He was a shaken man; over the horror, he saw and loss of a thirty-five-year companion. As we talked the emotions of that year came out in the stoic man.
Grief is a difficult companion. It knows no appropriate behavior. It let's go slowly and comes in the nights of life; creating anguish and teardrops. It prevents a life of normalcy and its only purpose is dismay.
But slowly the tears will go away, each drop of anguish replaced by the grace of God. Until that sunny day where memories replace the grief. No one knows the time. But in a perverse way grief will heal him.
We left each other, with me praying in Jesus' name that he would heal on his thru-hike. Perhaps a place of respite from his awful companion called grief.
We live life in segments and milestones, surrounded for a few days by wonderful people. Then we move on never sure how to say goodbye.
Blessings, until next time,
Bruce L. Hartman
https://brucelhartman.com/wp-content/uploads/2019/04/wed-april-17-blog-image.jpg
481
640
Bruce L Hartman
https://brucelhartman.com/wp-content/uploads/2019/02/bruce-hartman-logo.png
Bruce L Hartman
2019-04-17 02:30:28
2019-04-17 09:54:38
Milestone on the Trail